3 Internet Income Opportunities That Can Fund Your Retirement
In this article I will share with you 3 Internet income opportunities that can supplement or create a full time income for you. If you are looking for some get rich quick scheme, look somewhere else. These income opportunities require effort and knowledge.
Affiliate Marketing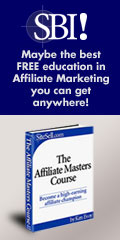 There are many Internet income opportunities when you consider all the products you can sell online through affiliate marketing. Affiliate marketing is nothing more than selling other people's merchandise or services for a commission.
You can sell digital products such as eBooks. ClickBank.com is an excellent place to find digital products. The nice thing about digital products, you do not have to physically ship them. Your customers download them from a special link your merchant provides. You can do this 24/7.
Or you can sell physical products. Commission Junction (cj.com) can provide most of the physical products you would ever want to sell.
To sell products online, you will need a website that attracts lots of people. Many beginners do not know how to attract online visitors. Without visitors, you will not have any sales.
So they buy advertising on Google or other search engines. While this can work, it is very expensive if your website does not convert customers.
I prefer to create a website that gets free traffic from the search engines. This takes time to create, but it is the best way to go in my opinion.
SBI, the company I used to create this website, offers an excellent free eBook titled Affiliate Masters Course (new window). This 193 page free book covers everything you need to know to succeed at this Internet income opportunity.
eBay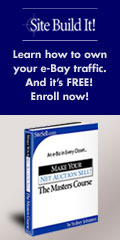 Selling new and used items on eBay has long been a popular way to earn income online. This income opportunity is simple to do. With practice and following the advice of experienced PowerSellers, you can turn your, or someone else's, new or used items into cash.
In my article How To Start An eBay Home Business (new window), I cover the steps you need to take to create this Internet income opportunity.
To create a constant income stream, you need to be able to obtain new or used items at wholesale prices on a consistent basis. I cover these topics in several articles on my website Legitimate-Home-Business.com.
If you cannot find a wholesale source to your liking, consider selling other people's items to get started. For a percentage of the selling price, you place the pictures and product description for each auction, handle all inquiries, and ship the items sold.
People who don't know how, or don't want to bother setting up an auction will jump at the opportunity for you to sell their stuff.
If selling on eBay interests you, download the free eBook titled Make Your Net Auction Sell (new window).
Earn Ad Income From Your Website
Of all the Internet income opportunities that exists, my favorite income opportunity involves no selling. I prefer to create a website that gets free traffic from the search engines. This website is about a topic for which I enjoy writing articles.
On many pages I place Google ads. Whenever someone clicks an ad, I earn a fee from Google. Each month Google sends me a check for several hundreds of dollars.
This is as passive of an online income opportunity that I know of. Click the link and read my article how I do it.
There are many legitimate Internet income opportunities that you can do earning retirement income from home. Just avoid the many scams that promise big dollars without working. All of the opportunities I mention on this page will require some work. Every home business that pays a living wage requires knowledge and some effort on your part.
Return to Retirement Income.

Return from Internet Income Opportunities to Planning For Retirement home page.